As a stylist, I'm always on the hunt for brands producing incredible quality products. For me, I'm always choosing styling elements that are built to stand the test of time, no matter what. On the face of it, some of these choices may come with a higher price tag, but really, when you add up how many times you're going to need to replace that soggy, faded, mouldy knock-off, you'll be glad you invested in the first place. A perfect example of this is 3Beaches. Established by designers who met through their studies, they produce incredible textiles built specifically to withstand Australian conditions. Add to that, the flexibility of being able to customise your order, or even just buy lengths of fabric for upholstering furniture, and you're in for a treat. 3Beaches textiles can end up as anything from cushions to umbrellas, and I couldn't be happier about it…

Bold Blue: FISHNET DENIM
Every Hamptons styled home needs the perfect accents to finish the look. This nautical-feeling fishnet print would integrate beautifully as part of a Hamptons or even coastal styled environment. Perfect for both indoor and outdoor use, the Sunbrella acrylic composition means it will be resistant to fading, mould and mildew and water damage. Best of all, the quality is guaranteed by a 5-year warranty, so you know you are in safe hands.

Gorgeous Green: TROPICAL PALM HEDGES
No coastal or plantation look is complete without a solid palm print. Subtle shading complements the bold leaf texture and makes for the perfect finishing touch on your carefully thought out room. Maybe you'd like to go a step further and create a completely upholstered piece of furniture? Anything is possible with these hardy textiles.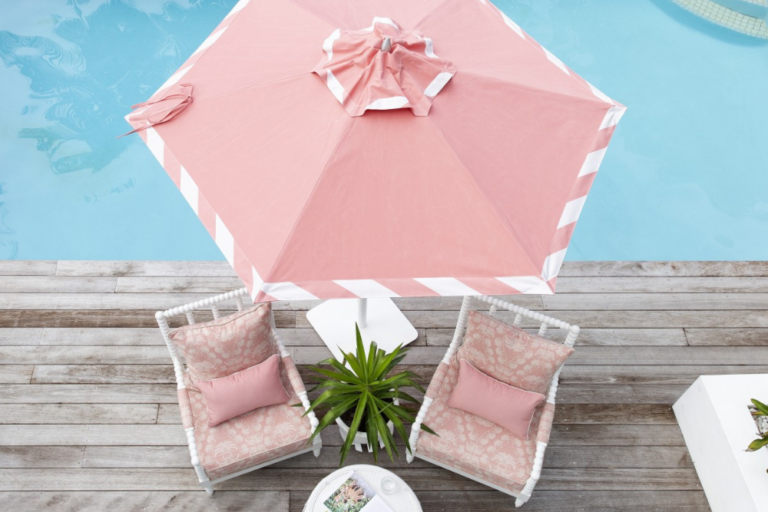 Perfect Pink: DESERT EVE CHERRY BLOSSOM
Capture the boho spirit with this delicate pink print. A touch of dusty pink luxury is never a bad thing, especially when it takes the form of this versatile, durable 3Beaches textile. Perfect for both indoor and outdoor use, you can even reverse the pattern for a continuous, but contrasting look. Made from 100% solution dyed Sunbrella acrylic, there's nothing stopping you from using a little or a lot – you could even use if for an umbrella!
If 3Beaches textiles are speaking your language, why not organise a consult with me, Melanie Grace today. We can discuss the where's and why's, and come up with a truly beautiful plan of attack for creating the perfect style for your home.