If you need to refresh your home for sale, fresh white paint should be your first priority. 
White paint is the perfect blank canvas for a home to shine when getting prepared for sale. 
It's a neutral colour, and painting in this hue gives the best return on investment prior to a sale. 
Let's look at how to choose the best white paint for interiors and which paint should be used where. If you think white on white on white will look bland, it won't. But the key is choosing the right white for the ceiling, walls and architraves.
Why white paint?
White paint is the perfect base to allow the styling of your home to take prominence. 
It creates a blank canvas for buyers to imagine how they would live in your home.  White paint also gives the impression of a larger, brighter and airier space. These are key components to drawing an emotional response from a potential buyer to get that first offer which can lead to a sale.
Best shades of white paint
When painting the interior walls of a home, different shades of white can create all sorts of tones like blues, greys, yellows and even purple. Sometimes the wrong colour white can throw the wrong shade and create the opposite effect of 'bright and airy'. 
You will need to decide on whether your home needs a cool white or warm white. 
Cool White
A cool white paint will have a blue, grey or green undertone. They work best in newer homes with a contemporary style. 
If your home gets flooded with natural light, a cool white is going to be the best choice for your property. 
Vivid White by Dulux will deliver a bright and light feel to your home.
Warm White
As the name suggests, warm whites will have autumnal coloured undertones like red, brown and yellow. These whites are more suited to heritage or traditional styled homes. 
They may have a cream undertone, but they will work better with an older styled home than a cool white will. 
Whisper White, Natural White and Antique White USA by Dulux are the best warm whites. They are less stark than a cool white, but won't be too creamy. 
When in doubt choosing a warm or cool white, White on White by Dulux is a popular choice and works well with warm tones picked up in furniture and décor. 
If you're hesitant about choosing the right paint, why not leave it with a fully certified Dulux accredited interior painter who can do the hard work for you.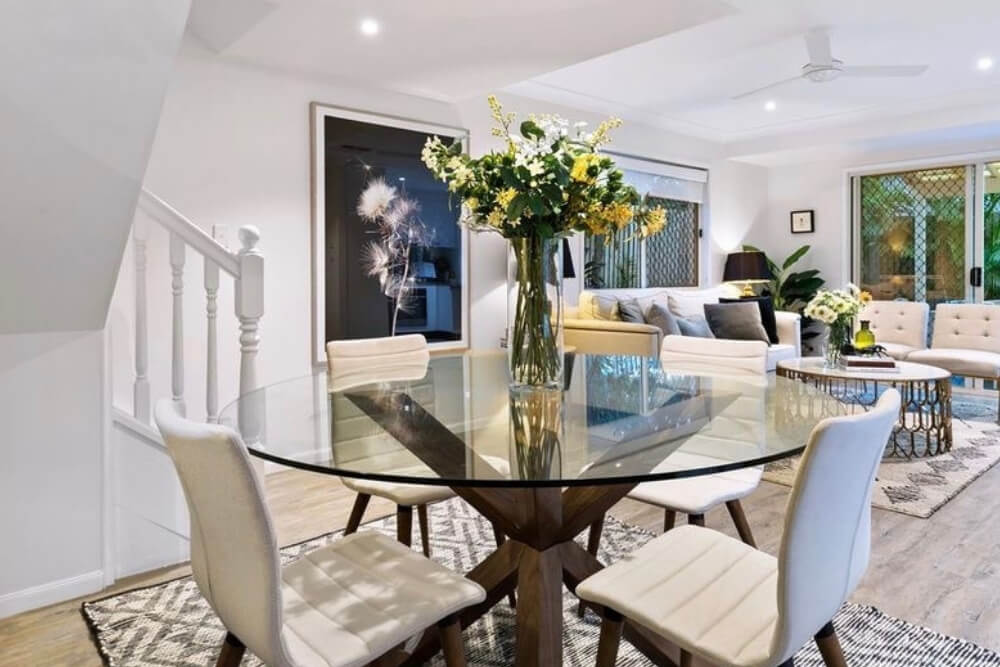 Testing is crucial
When deciding to paint the walls yourself, testing your white paint is paramount to confirm it really is the right white for your home. 
Tester pots can be purchased from your local paint supplier or hardware store. Test the paint by painting small sections of wall in the dark areas of your home and the brighter spots that get natural light. 
Watch how the shade turns when it's morning, noon and night. When you're happy with your choice, it's time to get painting. 
Which white paint to use where
Choosing the right white paint for the walls is one thing, but choosing the right white paint for the ceiling and trims is another. 
As a guide, a cooler white is generally used on the ceiling. 
For the best result on architraves and trims, use a water-based gloss. This will prevent the architraves from yellowing and your future buyers will thank you for your choice. 
It can feel overwhelming to find the right white for the interior of your home. But these tips will help take some of the pressure away when getting the colour right.