One of the most difficult rooms in your home to style yourself has to be your home office. Given how much time we spend in the space, however (and increasingly so), it's pretty important to get right. Where do you even start? Are you after a certain functionality? A certain aesthetic? How do you use your office space and does it need to double as guest space occasionally? How do you pick the right desk, chair, shelving, drawers, storage (and so on)? No wonder home office styling is a challenge! Thankfully I've been at this interior styling game a while now and I've picked up a trick or two along the way. My biggest tip for creating a stylish, functional, productive workspace is to start by answering the following:
1. What does it need to look like?
2. What does it need to do? For office spaces, more than any other room in the house, both form and function are of equal importance. Still not sure? 
Here are my top home office styling tips based on some of my favourite looks…
Home office styling look #1: Plantation Style
Plantation style has to be up there with one of my favourite looks to create for clients. It's warm, tropical and antiquey-feeling without the massive price tag. Lots of dark, chocolate browns, crisp whites and gold accents. Oversized leafy greens are a plus here too – both for the visuals and the great company a good palm makes on long work days. Think relaxed elegance… This look is perfect for the Australian climate.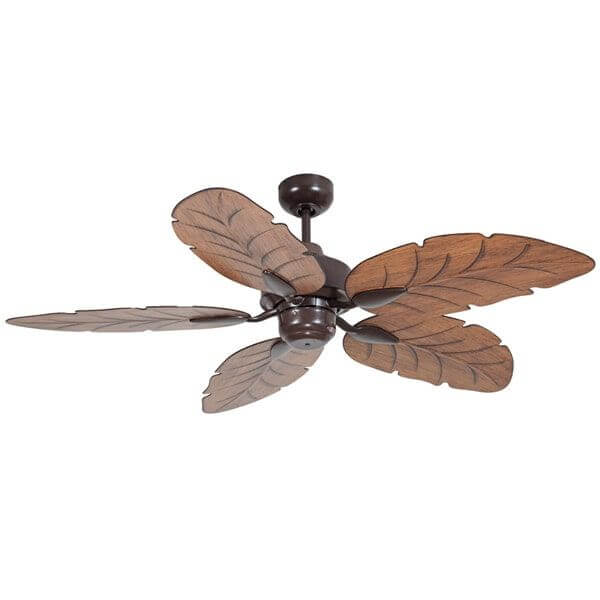 My favourite feature of any plantation-style space has to be a great big fan. Choose something full of character that starts a conversation. This fan is perfect for this style.
While it's important that your fan looks great, it's also essential that it's efficient for those hot summer days. How would you find out before installing it? Well, if it's a direct current (DC) motor and it's the appropriate size for the room then you're likely onto a winner.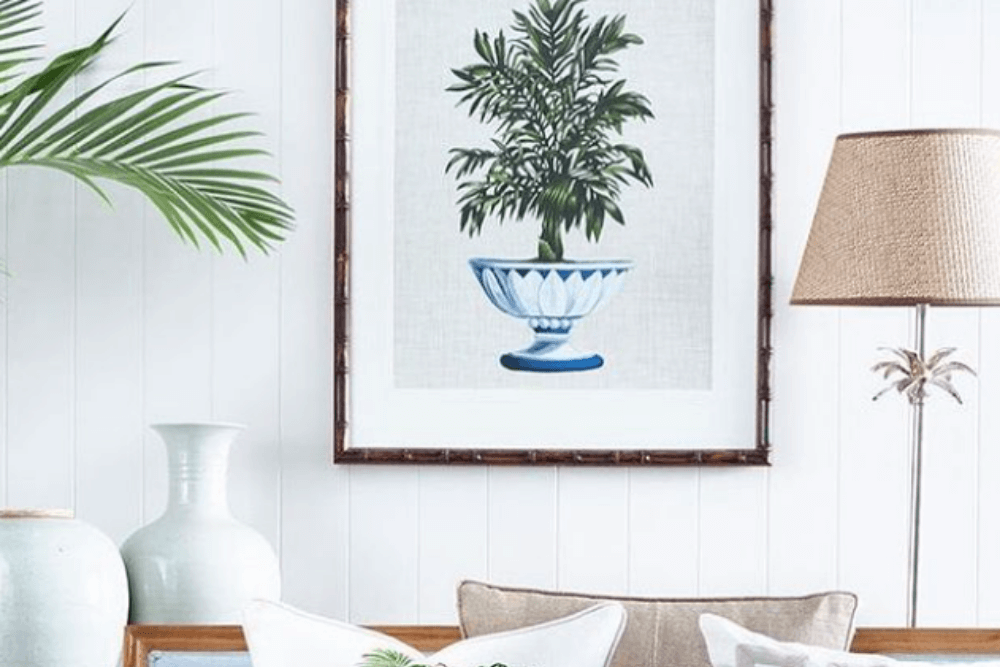 The right artwork is the next thing to tick off your shopping list. I am head over heels in love with everything Designer Boys art. Use their Instagram feed like a catalogue – unfortunately, they only work with people in the industry rather than the public, so their website it sealed behind a secret door (trust me, it's fabulous!). If you fall in love with one of their pieces, get in touch. I may be able to help you.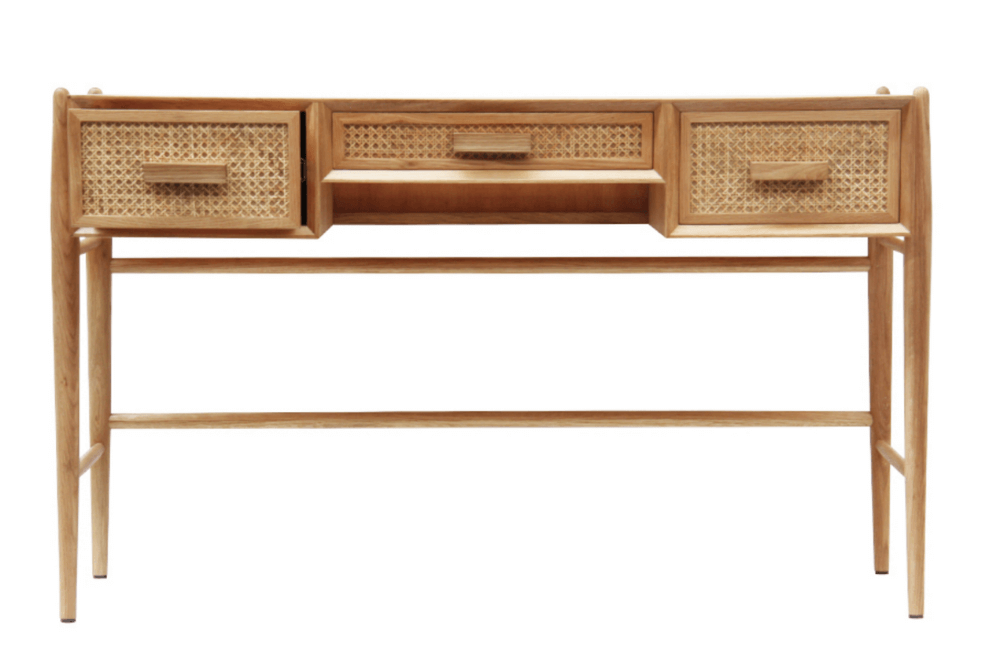 You'll need somewhere to work, of course. This fantastic oak and rattan desk from Satara ticks all the boxes for home office styling plantation-style.
I mentioned greenery before. Personally, I feel that a bit of green is essential to every major space in the home. Not all of us have the time, patience or memory to properly care for our green friends, though! Fear not, my friends at Florabelle have the solution. Their artificial flowers are so incredibly lifelike, you'd be hard pressed to spot the difference. The best bit is that you get all the visual benefits of having plants in your office, without the mess and maintenance. Check out these lovelies: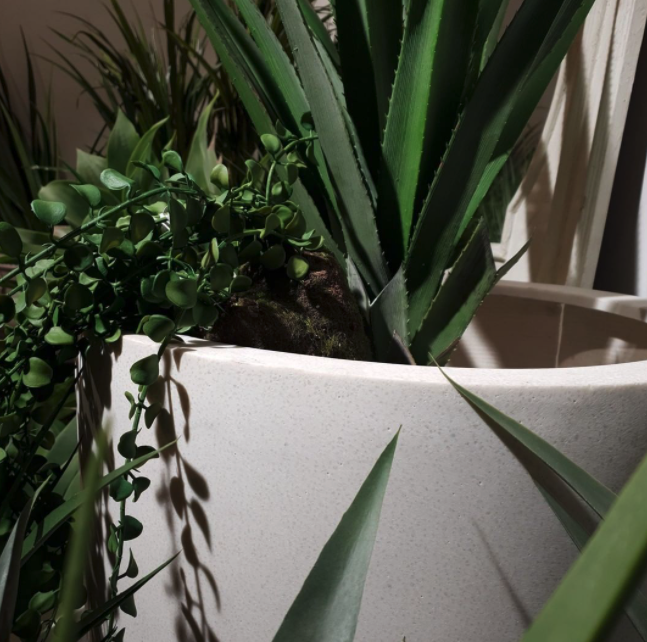 I suppose you'd better have somewhere comfy to sit as well, given how much time you'll likely be spending at your desk! This stylish number from Globewest ticks all the Plantation boxes. Good quality distressed leather is a big yes.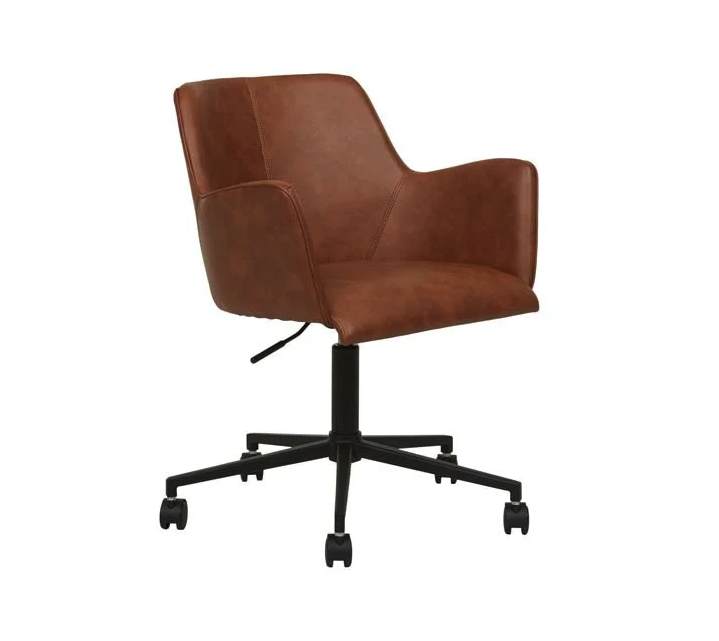 Home office styling look #2: Glam Style
If Plantation-style is a little too unisex for you, maybe adding a bit of girly glam into your home office is more up your street? A bit of fluff, shine and sparkle never hurt anyone, right? Home office styling for the glamorous professional is all about textures and well-upholstered furniture. You don't have to go all-out pinks to achieve a glam style, but the occasional touch of metallic is an absolute must! Take this sideboard, for example: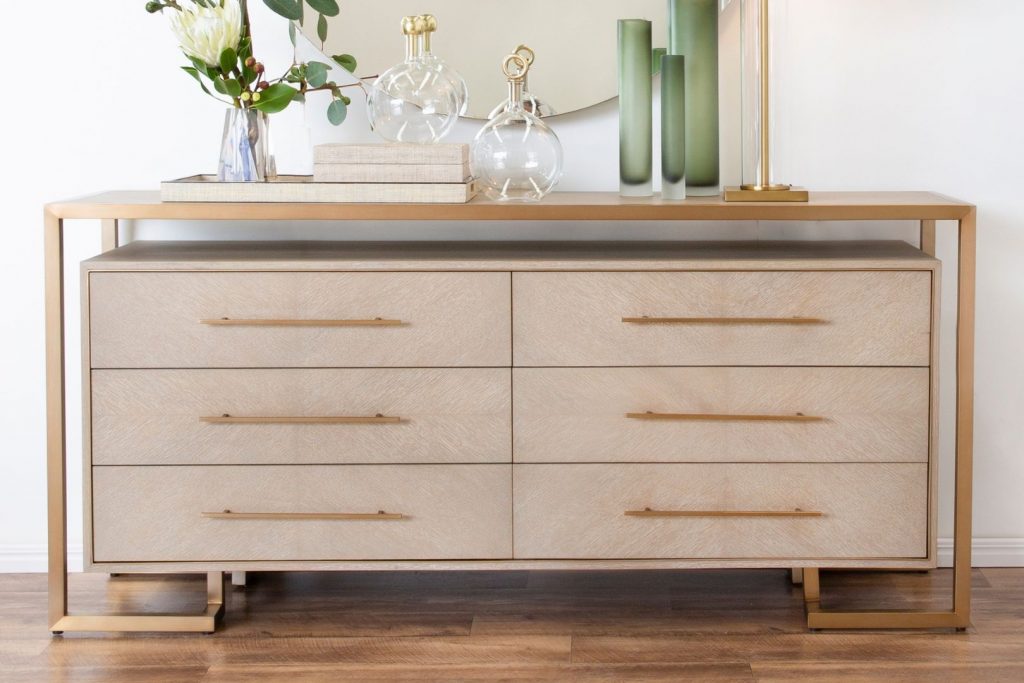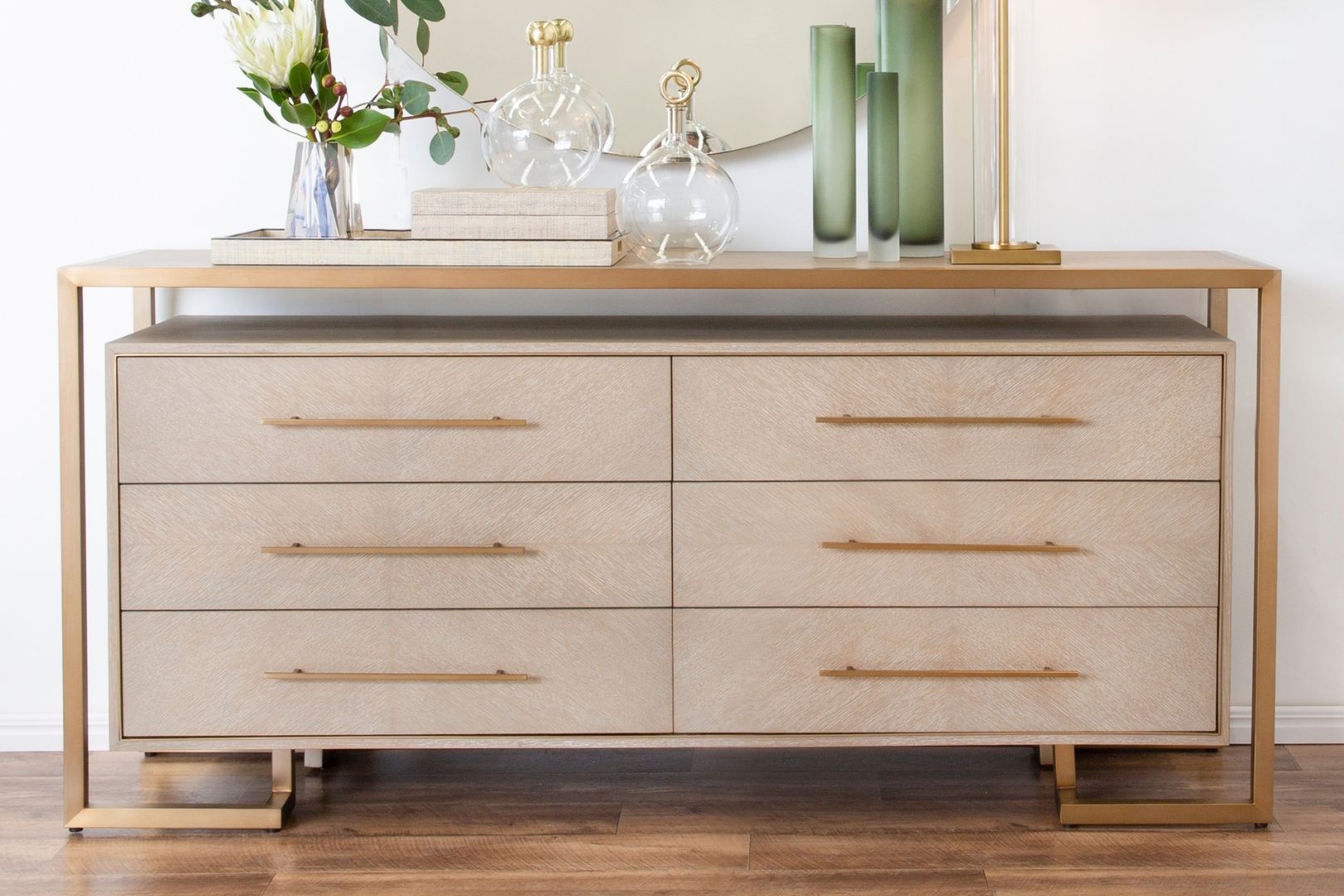 This beauty from Boyd Blue is proof that form and function can work together in one piece. You don't always have to have a traditional filing cabinet to hold all your office bits and bobs, and with the addition of the brass accents, this piece will have your home office feeling expensive, elegant and oh-so glamorous. 
When choosing a floor covering for your glam home office, make sure you take into consideration the type of desk chair you plan on using, and the size of the rug vs. the size of the space you'll be moving about in. If you're planning on having a desk chair on
castors, avoid a rug that's too textured, and no matter what, make sure it's big enough that you'll be able to avoid having to negotiate a bump every time you'd like to get up from your desk. It's surprising how tiny irritations can become bigger over time (and how easily they can be avoided with prior planning!)
This Tribe Home rug ticks all the boxes for team Glam… it's massive (starting at 2.5m x 3.5m), keeps a low profile and above all, looks fabulous.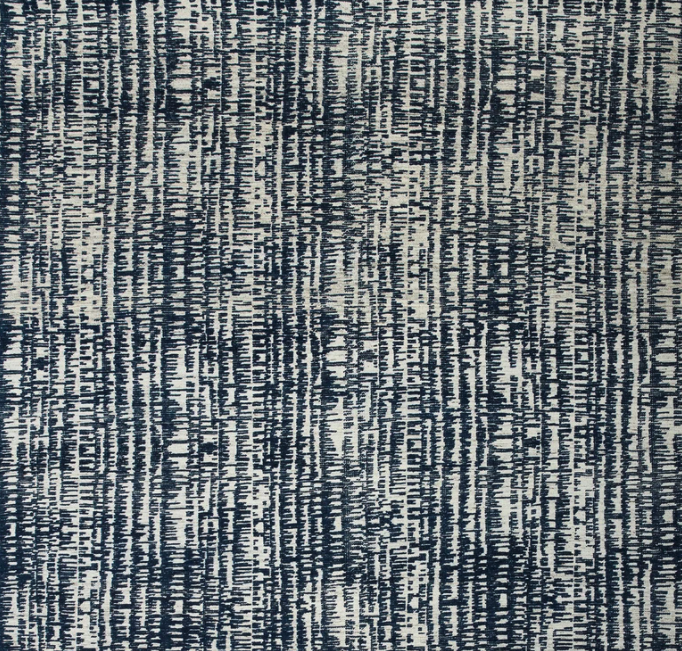 Keep in mind, too, that if you have clients visiting the office, you may well need somewhere for them to sit. You need something that's not only beautiful, but also comfortable for clients to settle into while you take them through the details of your latest proposal. The Milan Armchair from furniture dynamo Darcy & Duke fits the bill perfectly, and comes in a huge range of colours to suit your glam home office styling efforts.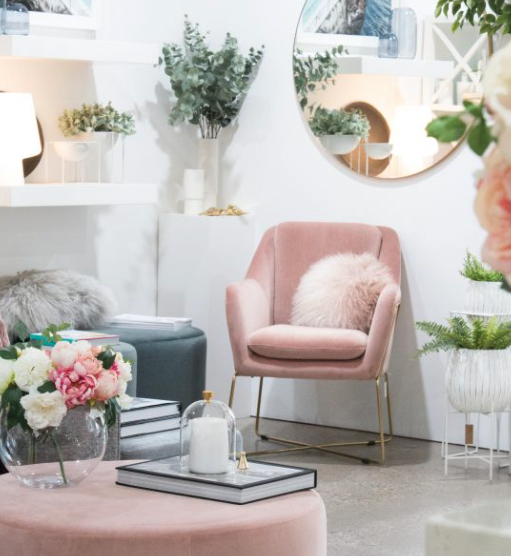 My final tips for creating the best glam-style home office? Add in some smooth textures in amongst the fluff – marble and glass will do you well here. Variance in texture is essential to create warmth and interest in your home office styling, so please don't neglect it!
Home office styling look #3: Boho Style
Ooh, now for a change of pace, allow me to introduce you to… the Boho office. It's a tough look to pull off when you want everything to look ordered and neat and the whole ethos of boho is to be carefree. Of course, there are compromises to be made in any setting and short of flinging papers across the place willy nilly (never a good look!), here's what to do… For your base, stick to muted, earthy tones – walls, floors and furniture included. Add in colourful accents like rugs, throws and cushions and definitely, definitely include greenery. Antiquey-looking pieces will add the finishing touches to your boho home office styling efforts.
As always, the desk is a good starting piece to focus on. Find something that not only looks the part, but will be functional to the bitter end – remember, you'll be spending a lot of time at it, so don't skimp! My friends at Searles Homewares  have pulled their favourites together… I think this might be mine: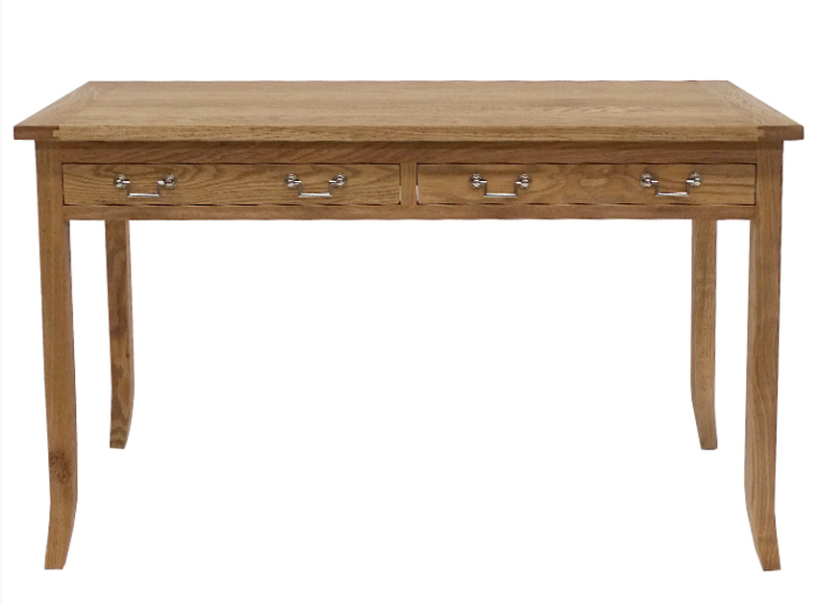 Don't forget somewhere for you to sit and ponder your creative pondering, or host a client visit! This Canvas+Sasson masterpiece would well and truly do the job.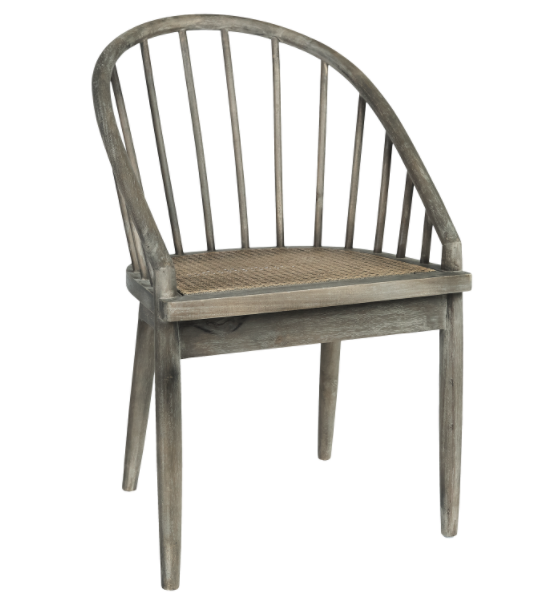 While you're at it, don't miss the opportunity to soften and brighten things up with a cushion or two. Once again, texture is essential and these cushions  from Eadie fit the bill perfectly.
So there you have just three of a multitude of looks to achieve with your own two fair hands. Home office styling doesn't have to be stressful as long as you follow the key rules I've set out for you. In the meantime, I'd love to see your set-ups that have been inspired by this blog. Don't forget to hit me up via the