A true property stylist knows that beyond the cushions and the light fittings are the real meat of what they do – the data. It's easy to make all the promises in the world but the ability to present prospective clients with PROOF that this process works means that they can be assured they are using a professional stylist with a track-record of success. It's about transparency and authenticity.
Eatons Hill Success Story – Property Stylist + Return on Investment = Happy Days
We had a client approach us some time ago. They'd been dissatisfied with a quote they'd received from a competitor – the costs were cheap and so were the products! If it seems too good to be true, chances are it probably is!
It was a tight turnaround from the start as crunch time was approaching and we effectively only had one week to get everything organised. Here's how it went down:
The Property Styling Process
There was a two-hour property stylist consultation. During this time, we discussed the importance of making an investment in property staging and how this could lead to a significant return on investment come sale day. Pre-prep was done during this time (photos and floor plans as well as measurements) as we don't like to double back. Measure twice and cut once – the tradie's motto!
Once we were all on the same page, we hit the ground running! It usually takes 2-3 weeks (particularly in spring – our busiest season!) but we had one week! Action stations, team!
We worked with the client so they knew what we were doing every step of the way – there were no surprises. Some of their furniture was used and some of it was removed and safely placed in temporary storage (partial styling). We wanted to utilise every single space in order to show the potential buyers the endless possibilities of the property. Greenery, mirrors, fab artwork, high end furniture – FRESH was the order of the day and we wanted to deliver.
Warehouse pick up was undertaken to choose the best possible pieces for the job. We then went ahead with the installation (a huge process but incredible fun!).
The first open house was on that Saturday. It was a packed viewing and there were lots of buyers walking around with hearts in their eyes. The house was SOLD within 24 hours and went unconditional within 14 days! What a turnaround! For us this is our goal for our clients.
The client was thrilled. – Here is our review from them
How We Transformed The Space – The Before & After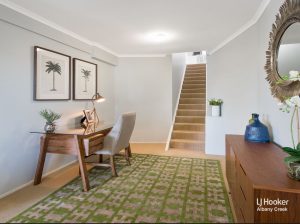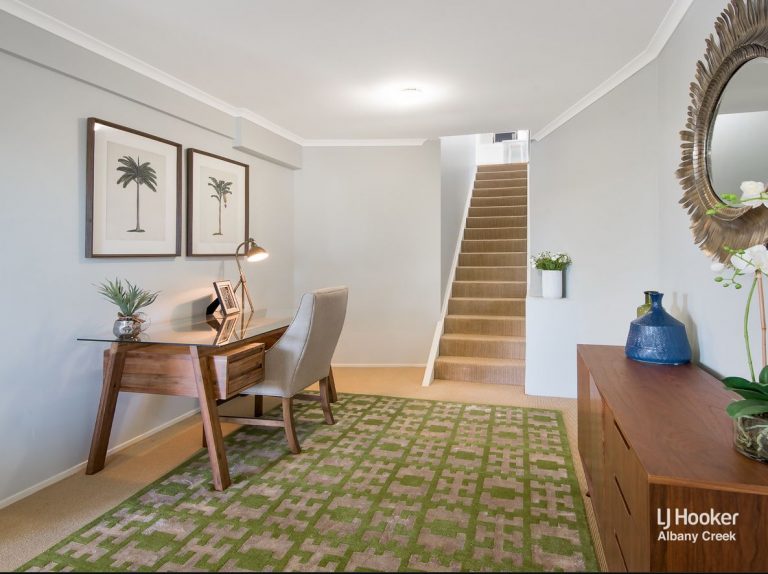 What Happens After My Property Is Sold!
We went ahead with destaging and everything was put back in place as if we'd never been there. Apart from, of course…
The Return on Investment
We don't hide figures at Stagency. Here's how everything came out in the wash.
Listing Price was $579 000
The property had 4 bedrooms, 2 living areas, 1 dining area and outdoor space. The clients spent $4400 on the partial property styling process.
The Sale Price was $595 000.
This was $16,000 above asking price.
The return on investment of the property styling price of $4400 was 263.64%.
Interested in how this could work for you? Book your property styling consultation now with Stagency.