DIY Property Styling
We are fully aware that during the COVID19 epidemic, many people are nervous about selling their home let alone paying to style it. As a business we have pretty much closed down due to Government regulations and only working with clients for Interior Styling virtually.
Here is our free guide to DIY Property Styling to give you the edge on selling your property during Coronavirus lock down.
If You Fail To Plan, You Are Planning To Fail
Benjamin Franklin supposedly once said, "If you fail to plan, you are planning to fail."
As Property Stylists we are all about planning when styling. We don't just turn up and magically throw a cushion on a couch and make a bed. everything is about pre planning prior to styling day. There are many hours a property stylists spend on each project behind the scene.
My Top Tips For Planning
Make a realistic budget. Put it in an excel spreadsheet and stick to it.

Make a to do list – just a simple one for each room and attach it to a wall with blu tack. Cross it off as you go.

Be realistic in what you can and can't do on your plan. If you don't have time/ability or budget for painting then touch up.

Get ready to work HARD to get it to market.
Your Style Isn't Everyone's Taste?
Yes you love Grandma's eclectic artwork and it's meaningful to you, but not to a potential buyer. Likewise your yellow feature wall that took you 3 weeks to get right is probably going to turn off 90% of buyers who don't DIY and don't want to repaint.
Styling your home to your target market is what you need to achieve. Talk to your agent and ask them who your buyers are – locals, young, professionals, Chinese! it really makes a difference how you present your property. You aren't going to go scandi boho for a Chinese buyer.? Keep it neutral. If your target market is young professionals maybe styling one of the bedrooms as a study! If it's a young family a nursery is an asset.
Selling Is Not The Time To Paint a Feature Wall Pink
If you are painting the whole house choose a palette that will suit a broad range of your target market. You may dream of having a pink bedroom, but I guarantee the new owners won't. Bunnings is an easy way of getting help for free. Take a photo of the areas and take it to your local store.
Look at other homes in your area for sale on realestate.com.au and see what others have done where the property sold fast and for a great price – take their lead. However make sure the colours you choose suit your style of home. Painting is a cheap and effective way to give your property a facelift and freshen it up for sale.

Don't Over Complicate It
A big no no is cramming as much as you can into a room to style it. Keep it simple, show the function of the space – make it appear large and open. You don't need 3 coffee tables and 3 lounges in a room. You do however, need to show how the room flows and functions. How will they live there! How will it look to have their own furniture in there if they don't own a 12 seat dining table that you put in for styling but would never use?
This is probably one of the major areas as a Property Stylist that we work with when styling your home so I cannot emphasise this enough.
Kmart & Ikea
OK OK we know everyone loves them and EVERYONE is styling their own homes with Kmart & IKEA but seriously do you want your home to look like everyone else's. People KNOW the products, don't make your home look cheap. There is a place for some of their products but not a whole house full.
You can style budget friendly by using a mixture of what you have, revamp pieces, add in a little of the cheaper pieces and buy other items secondhand – mix it up. Have you heard of Facebook Market Place? Excellent resource and you can buy more expensive pieces at a fraction of the cost.
Declutter, Donate, Throw, Keep, Store
One of the most time consuming parts of preparing your property for sale is the preparation and packing up. Finding that old remote cover or lost toy may be rewarding but its time consuming dirty work.
Prepare – get your boxes and packing material etc. Make sure you pack one area at a time, everything you are not going to need for 6 -8 weeks and pack it away. You need to keep cupboards free of clutter and your home clean and well kept. Yes they will look in your cupboards on inspections believe me. What you no longer need donate, throw or put in storage.
The Cleaning Fairy
Can't even begin to tell you how important this is. If you don't have the time, pay someone to do it. Scrub, wipe, mop, clean every inch of your home and I mean everything. Including the exterior. Nothing turns off a buyer faster than a dirty home – it's a reflection on how you maintain the property.
My top tips for cleaning your home for sale – this is part of our home prep list for clients in 2020 at Stagency
Make a list for each room cleaning and attach it to the door of the room.

Set aside an amount of time each day to clean.

Get the family to help – don't try and do it all yourself.

Remember to gurney and clean the outside of your home as well.

Keep a small cleaning kit ready for use before each open house.

Pets – get rid of them for the sale campaign, the smell is a no.

Get carpets cleaned and wash curtains

Get a second pair of eyes to look through when you are done to see if you have missed anything.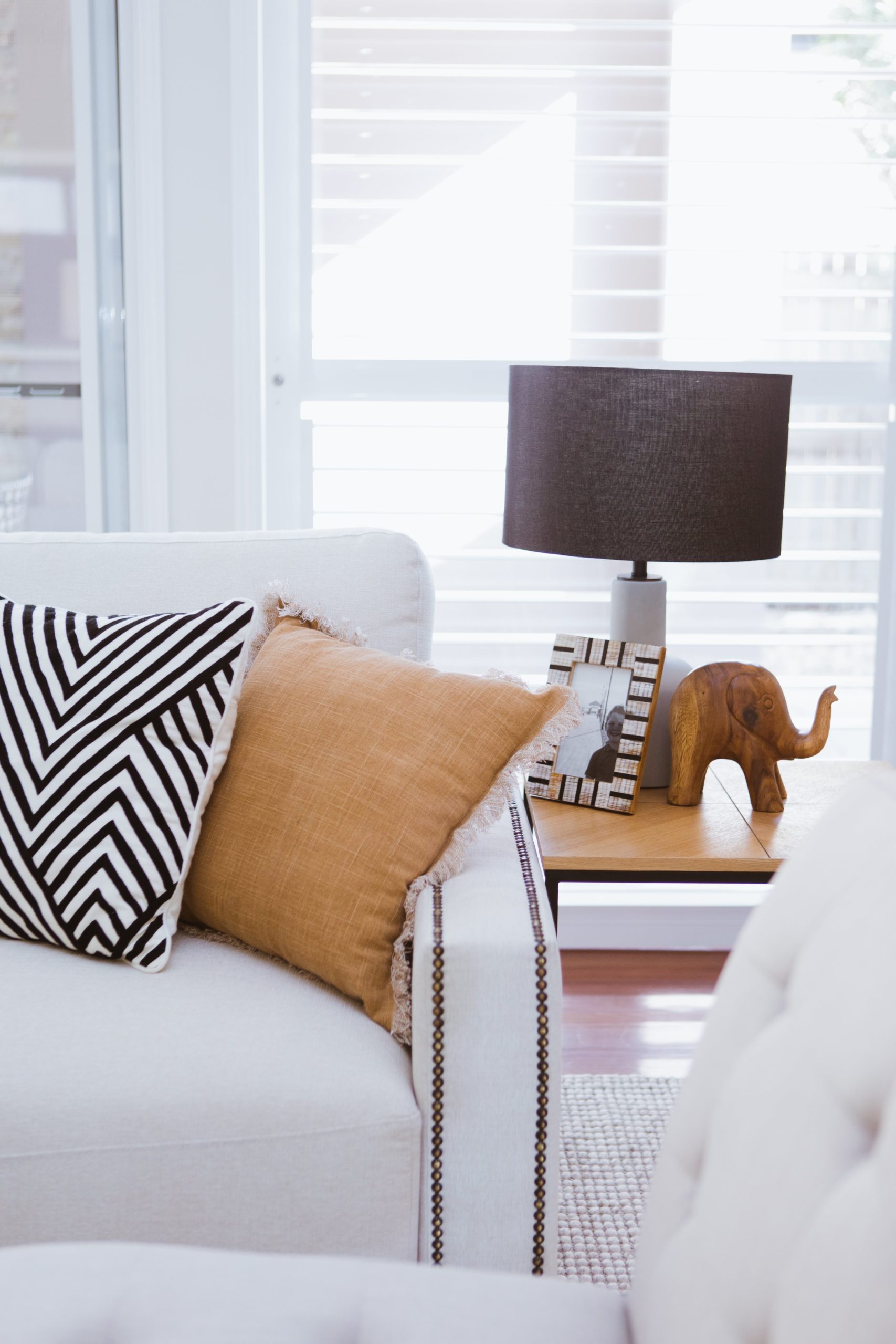 Let There Be Light
Every single time I tell my clients this they are amazed they did not think of it and how simple it is to make a huge difference.
Change all your light bulbs – everyone. Cool white for living areas and warm white for bedrooms. While you are at it clean the light fittings – yes you know the covers with 15 years of mosquitos in it that you always look at and never do! Once that is done add in lamps to rooms – they make spaces more inviting and relaxing and look fabulous in photos.
Making Beds
One client said to me after an install – "OMG your beds I want to dive in they are beautiful" to which I replied "perfect then I've done my job".
Throwing a Doona on a bed is not enough. You need to style it and it can be done to budget. If you are living in the house you can have a set of bedding that you put over your own bedding for open homes. That way you don;t have to change the bedding each time. Once open home is finished simply roll it all up and put it in the cupboard for next week.
My Tips For Bed Making
Pick white or dark covers and work with that.

2 Euro and 4 pillows for the master bedroom. 2 euros and 2 pillows for all other except single which is one of each.

The Doona should be bigger than the bed size – if you have a double bed style it with a queen size Doona.

add in 2 accent cushions and a blanket throw at the end of bed – no diagonal throws thrown across the corner of the bed – so obvious?

Don't be afraid to add in pops of colour and pattern, Add layers and textures as it makes it more inviting.

Join our Facebook group to get more top tips here 
Kerb Appeal
First a buyer looks online for house for sale, long gone are the days of looking at the newspaper on a Saturday morning. So after photos, kerb appeal is the next in line. If a buyer is interested in your property they will likely then do a drive by – so your home needs to appeal to them to get them in for a viewing. Even with COVID19 buyers are still going to want to look at a property with a private viewing before purchasing it.
Whilst you may be out in your superman costume doing the bin run in dress up for Instagram you also need to be pulling out the weeds in your garden bed. Make sure bins, hoses and anything else is out of site. Give your front door a lick of paint and tidy up the garden and beds. Again a to do list is essential.
I will leave you with the above for you to decide if DIY Styling is for you? If not visit our website and you can talk to us for a virtual consult to help you with the to do list from a interior stylists perspective. I
Melanie Grace is an interior stylist and serial renovator – you can find out more at Stagency